Testo-Book Tour40
Here are the Participants:

R34-update
Vantage2
Sicario5.2
Terminator Ultimate7.5
NeDiM v1.1
Maquiavelico2.0
CorrPowerBook 2012
Defiant4


Processor:Intel Core i7 980X
Operating System: Win7 Home Premium x64
Chess GUI:Fritz12
Time Control:3 Minutes Game
HashTable Size:256 MB
Book Learning:ON
Permanent Brain:OFF
Tablebases:EGTB
TB Cache:16 MB
Tournament Type:Round Robin(10 games per pairing)
Engine:Houdini2.0cPRO x64

Tour40 is over.
It was an exciting duel between R34 and Vantage2.
But once again I can say:
Congratulation to ROBOT and his R34 !
"Good Job Robot and a good update" !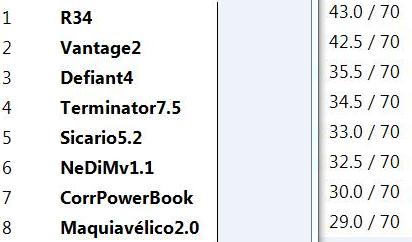 Games:
http://www.file-upload.net/download-4094834/Testo-Book-Tour40.zip.html
Similar topics
---
Permissions in this forum:
You
cannot
reply to topics in this forum